The 1st Emerging Agricultural Enterprises Summit was held on December 9-10, 2019 at the UF/IFAS Straughn Center on UF's main campus. Following that event, the UF/IFAS Dean for Research Office and the UF/IFAS Dean for Extension Office, in partnership with the Vice President for Agriculture and Natural Resources, created a program called "Support for Emerging Enterprise Development Integration Teams (SEEDIT)."
The 2nd Emerging Agricultural Enterprises Summit was held on August 11-12, 2022 at the UF/IFAS Gulf Coast Research and Education Center in Wimauma, FL. New collaborative teams were formed at the event, and current teams were strengthened. Additional funding opportunities will be posted soon.
The objectives of the SEEDIT program are to: (1) create novel markets for agricultural products and services by identifying choke points and alleviating economic barriers to growth, (2) create significant public-private partnerships involving UF/IFAS faculty, and (3) support Florida's agricultural versatility.
$1.24 Million
was provided in by the UF/IFAS Research Dean, the UF/IFAS Extension Dean, and the UF/IFAS VP
19 Projects
were funded in plant-based agriculture, aquaculture, animal agriculture, and agricultural systems
175 Investigators
were involved including 98 academic faculty (47 assistant professors), 67 county or regional Extension agents, and 10 others (e.g. assistant scientist); 171 are UF/IFAS
22 Units
were involved including 14 academic units, eight RECs/off-campus units; also five major centers/programs, and three other UF colleges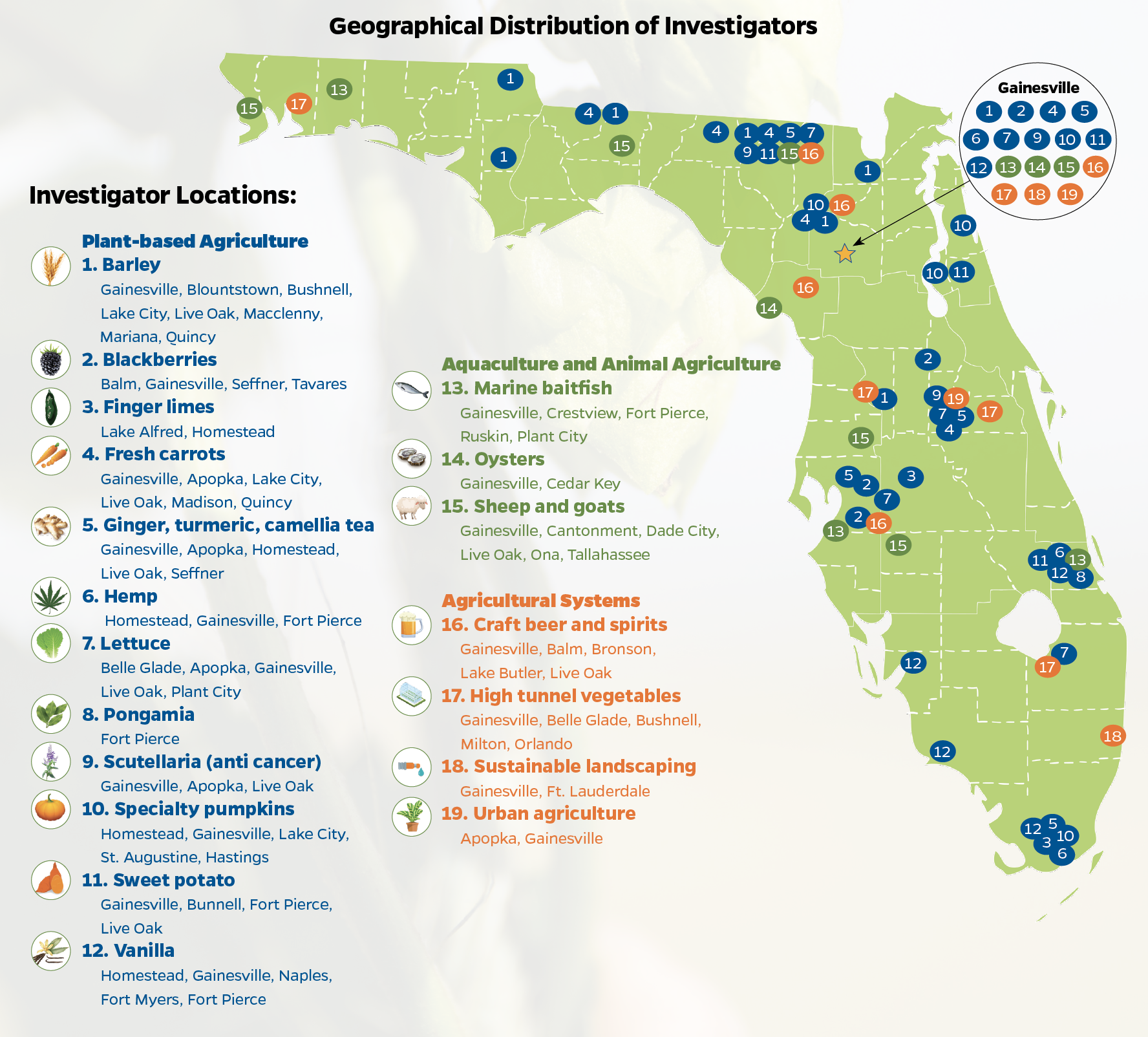 | | |
| --- | --- |
| Enterprise | PI Name, PI Unit(s) | Other Involved Units |
| Barley | Zotarelli, Lincoln, Horticultural Sciences | AGR, FSHN, NFREC |
| Blackberries | Deng, Zhanao, Gulf Coast REC & Environmental Horticulture | HOS, ENY, PLP |
| Craft beer and spirits | Lai, John, Food and Resource Economics | FRE, GCREC, NFREC |
| Fresh carrots | Treadwell, Danielle, Horticultural Sciences | MREC, FYCS, ENY, SWS, NFREC, PLP |
| Finger limes | Dutt, Manjul, Citrus REC & Horticultural Sciences | TREC, FRE |
| Ginger, tumeric, camellia tea | Fisher, Paul, Environmental Horticulture | NFREC, MFREC, PLP, HOS, ENY, FYCS, ABE, Center for Aquatic and Invasive Plants |
| Hemp | Brym, Zachary, Tropical REC, Agronomy | AEC |
| High-tunnel vegetables | Zhao, Xin, Horticultural Sciences | EREC, ENY, PLP, EREC, FRE |
| Sustainable landscaping | Iannone, Basil, School of Forest Resources and Conservation | Program for Resource Efficient Communities, ENY, Center for Public Issues Education, FLREC |
| Lettuce | Sandoya Miranda, German, Everglades REC & Horticultural Sciences | NFREC, FYCS, GCREC |
| Marine baitfish | Ropicki, Andrew, Food and Resource Economics | SFRC, IRREC, TAL |
| Oysters | Asche, Frank, SFRC - Fisheries & Aquatic Sciences Program | FRE, Sea Grant, Institute for Sustainable Food Systems, UF College of Public Health and Health Professions, UF College of Veterinary Medicine |
| Pongamia | Guzman, Sandra, Indian River REC & Agricultural and Biological Engineering | HOS, PLP, SWS |
| Scutellaria (anti-cancer) | Nadakuduti, Satya, Environmental Horticulture | MREC, HOS, ABE, NFREC, Center for Aquatic and Invasive Plants, ENY, FYCS, UF College of Pharmacy |
| Sheep and goats | Wallau, Marcelo, Agronomy | WEC, FRE, ANS, UF College of Veterinary Medicine |
| Specialty pumpkins | Meru, Geoffrey, Tropical REC & Horticultural Sciences | AGR, SWS, FSHN, FYCS |
| Sweet potato | Grabau, Zane, Entomology and Nematology | IRREC, NFREC, HOS, PLP, ABE, Program for Resource Efficient Communities |
| Urban agriculture | Campbell, Catherine, Family Youth and Community Sciences | MFREC |
| Vanilla | Chambers, Alan, Tropical REC & Horticultural Sciences | FRED |
---